Selsley Common:
WNW-NNW; 690' asl, 300' ttb; (SO 827 032 - sheet 162), site code 2.080
Sites Officer:
Wayne Buckland (07977 543746).
Rating:
Any rated pilot. Training is only allowed by Airtopia, under the terms of a specific agreement with the club.
Permission:
This is an Open Site. Please abide by Avon Club Rules and if you are not a club member read the section for Non-Members.
Parking:
Park on the edge of the common no more than 50' from the road.
Rigging:
Anywhere on the common.
Take Offs:
About 400 yds from the road anywhere on the ridge. If any modellers are flying, do not take-off directly in front of them.
Local Flying:
Beware of the wind gradient and sudden turbulence in winds of 16 mph or more, especially if the wind goes east of north. Keep a look out for the modellers that use the ridge, study their circuit patterns and stay to their east if possible. This area is shared with the Bristol and Gloucestershire Gliding Club so please read the agreement we have with them. Always get briefed by a local pilot before flying. This site is fairly friendly on a paraglider if the conditions are gentle. If you are going down, side land early to avoid turbulence from the trees lower down the slope.
XC Flying:
If there is any west in it you are better off going to Frocester if you intend to go XC on a hang glider as it can be difficult to get away. However, with Lyneham Class D now out of bounds, paragliders in particular may find longer XCs easier from Selsley. Keep away from the gliding club's tow field.
Top Landing:
Land anywhere on the common.
Bottom Landing:
The field directly below take-off on the north side of the road, but note that it dips in the middle. No bottom landing if the grass in this field is long. Beware the electricity pylons below and to the left of take-off. Do not land in any other fields as this has caused friction with the farmer in the past. If in doubt ask before flying.
Telephones:
The Gliding Club.
Hospitals:
Stroud or Gloucester.
Directions:
The site can be found about two miles SW of Stroud on the B4066 Dursley Road and is at the NW end of the common.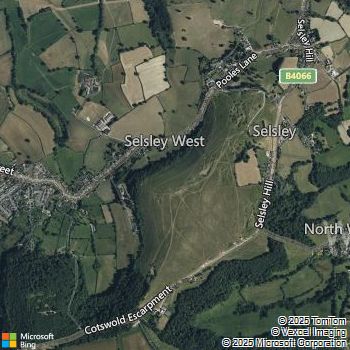 ---
This page last updated: 1st November, 2011
© Avon Hang Gliding & Paragliding Club, 1997-2013
E-Mail the