Long Knoll:
SSW-SSE; 850' asl, 200' ttb; (ST 796 377 - sheet 183), site code 2.060
Sites Officer:
Nick Somerville (01749 880579)
Rating:
Any rated pilot. No training.
Permission:
This is an Open Site. Please abide by Avon Club Rules and if you are not a club member read the section for Non-Members.
Parking:
There is no parking close to the hill. Hang glider pilots should drop their gliders off by the hill, being careful not to obstruct traffic as there is very little room to pull in. Then drive south past the hill and park in the garage on the SE side of the road after 400 yds. Paraglider pilots should park in the garage. Permission must be sought from the owner to park.
Rigging:
Walk to the top of the hill using the stiles and following the paths.
Take Offs:
Anywhere on the east end of the ridge.
Local Flying:
The site can be very rough at times, so take care - at least one paraglider pilot has been blown back into the fence that runs along the spine of the hill.
XC Flying:
Has good potential for paraglider XC flying. Can be difficult to get away from as you have to commit to leaving at a lower height than is usual. Beware of the wild-life park at Longleat, 2 miles to the N.
Top Landing:
It is a spine backed ridge, so top landing is virtually impossible on a hang glider but paragliders can land on the side of the hill.
Bottom Landing:
In the fields below the hill if they are not in crop - beware that they slope gently away from the hill. Watch out for the barbed wire fences. Paragliders can land on the side of, or at the foot of the hill in the same field as take-off.
Telephones:
Maiden Bradley.
Hospitals:
Frome or Bath.
Directions:
Leave Frome going south on the B3092. About one mile after Maiden Bradley, you will see the hill on the west side of the road.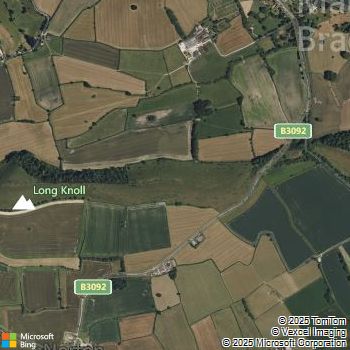 ---
This page last updated: 1st November, 2011
© Avon Hang Gliding & Paragliding Club, 1997-2013
E-Mail the